There is no shortage of things to see in Utah and I squeezed in as much as I could crossing the state. The Brian Head wildfire was raging east of Cedar City and so headed further south. The road I wanted to cycle was closed and anything else around there would have been an unpleasant ride through thick smoke. More than 500 homes and cabins had to be evacuated and it was hot enough without having flames to deal with! So I headed south, and visited my first National Park: Zion.
The place was heaving. It was an absolute traffic jam of tourists. Because there were so many people visiting the park's 'scenic drive' was closed to traffic and visitors had to take the shuttle bus. Bicycles were allowed, however, so I got to cruise around without any cars to worry about.
'The Narrows' is probably the park's most iconic hike. It was gorgeous but there were far too many people walking through the stream (most of the walk is in water). I have discovered a lot about myself on this trip and the lesson lesson I learnt in Zion was that I hate getting my feet wet. Hiking through water is not my idea of a pleasant stroll…


I much preferred the trek up to Observation Point. It was a push too far for most of the tourists but only took me 3.5 hours to hike despite being advertised as a 7 hour round-trip on the information board.

I cycled up to the next National Park 'Brice' and popped into the general store for supplies.
"I could listen to you talk all day" said the woman behind the counter.
I've had lots of compliments about my accent in this country, it's very lovely.
"You are from Australia aren't you?" she asked.
"What… no! I'm from England!"
"Oh, sorry. Close enough!" she shrugged.
Yeah, just around the corner. You probable think we sound like Martians too, they're only next door.

The Americans, bless 'em, have been really struggling to work out where I'm from. They love flying their Stars & Stripes at any possible opportunity and so the I attached the Engish & Danish flags to the back of my bike to join the party (I'm half/half). Imagine if someone thought I was from the US! Perish the thought…


Unfortunately no one has any idea where the flags comes from. Saint George's cross hasn't made it across the pond, it seems. People here are genuinely baffled that it is the English flag. We are British here, never English, Scottish or Welsh. In hindsight it's the Union Jack that I should have on the bike.


The Danish flag is a little harder to place. Only one or two Americans have spotted it. I've had Norwegian twice, Swedish and Swiss but only European tourists have known it is Danish. I corrected one of the guys who thought I was Swiss and told him I was from England.
"Jamaica?" he asked, clearly having misheard me. I nodded and said yes, amused at the idea of being from the Caribbean. That poor bloke must now have a very confused idea about the skin-colour and accent of Jamaicans…
You'd think my accent would be a giveaway. In Australia and New Zealand people knew I was a 'Pom' within seconds of me opening my mouth. Here in the US, more people think I'm Aussie than British. It's very odd. They all sound surprised when I say I'm English, despite the flag hanging off the back of my bike.
I was talking to one bloke for a good 15 minutes about where I'd cycled from.
"So are you from California?" Bloody hell, mate. Do I sound like a Californian!?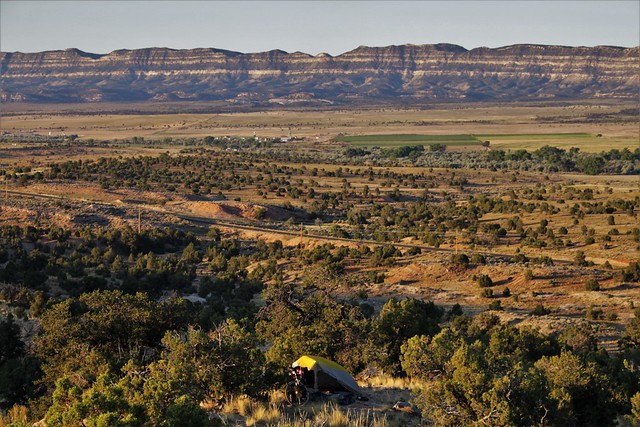 I preferred Brice Canyon to Zion. The views across the park's amphitheatre of surreal orange hoodoos were quite extraordinary. I caught the free shuttle up hill to the highest viewpoint and then free-wheeled all the way back to the visitors' entrance, stopping only to take a zillion photos and changing a snapped gear cable. After all the trouble it caused me my first year on the road, my bike has been wonderfully well behaved since then.

Every road I pedalled in Utah was incredible. It seemed no road could possibly be dull but I still needed some peace and quiet on the dirt – there was too much tourist traffic on the roads.


I was about to turn off onto Hell's Backbone (what a road name!) when I bumped into Jason, one of the guys I'd Couchsurfed with in La Verkin (near Zion). He and a friend had just cycled the route and advised me against it. Apparently it would be a huge slog on a bumpy road and that actually Highway 12 was far more beautiful. There is no point cycling over a mountain if the views aren't superior, so I stuck to the asphalt…

It was a good call as the ride from Escalante to Boulder was a phenomenal section of road. It was unlike anything I've ever seen before and felt like pedalling on another planet.


I stopped to do a couple of hikes on the way. One of them involved crossing a stream multiple times (which I hated) and at one point I almost stepped on a water snake. At the time I didn't know it was harmless and so I nearly had a heart attack.
I almost skipped the next hike having considered the last one a waste of time. It isn't easy walking in the heat: it's around 100 degrees and it's easier to cycle in that than hike. It was a pleasant 6 mile stroll but I kept wondering when to turn back – I wasn't vaguely interested in the waterfall at the end. I didn't get the appeal of waterfalls. They all look the same and water falling down some rocks isn't particularly exciting. Well, this one changed my mind completely…
I am now 'a waterfall fan!
I still needed some dirt in my life, so I headed onto the Burr Trail which is one of Utah's more famous back-country routes. It's switchback descent into Grand Staircase-Escalante National Monument is crazy but at the bottom a truly atrocious dirt road begins. It was one of the most frustrating sand washboards I've ever cycled (and I've pedalled some horrendous roads). It would have been better for building sand-castles than cycling. I got worn out early pushing my bike and so dragged my bike up to this gorgeous camp site on the cliff edge:

Actually the above campsite was an illegal pitch in the National Monument but camping here is a dream to do legally (which I do whenever I'm not too tired to reach a suitable spot!). About 65% of Utah is protected public land (BLM). On this land you are free to camp. There are a couple of rules that vary from place to place, but generally you just need to be a little distance from the road and after 14 days you need to move a few hundred yards.

I complained a lot about the free-camping situation in New Zealand so I should invest a paragraph to say how great camping is here in the US. The attitude towards and abundance of public land for wild-camping is amazing. The Americans have such a commendable view of this BLM land and it makes my life so easy to be able to camp freely and legally somewhere beautiful. It's a real delight and I'm so impressed by it. I've never been in a 'developed' country with these kind of rules and it's the polar opposite to NZ. (I appreciate that the situation is very different in NZ and that they don't really have the space to behave like the Americas).


It's easy to spot BLM land because in America all private land is covered in signs saying: 
PRIVATE PROPERTY. NO TRESPASSING. VIOLATORS WILL BE PROSECUTED.
It's another peculiar American obsession. Even out here – miles from anywhere – a remote ranch will be plastered in these signs every 30ft. You'd think the wire fence would be enough of a clue that the land was private. Apparently not. I'm not sure who they are so scared of or what they are so protective of. I've seen more 'no trespassing' signs in this country than in the rest of my life combined . You would never see such aggressive signs in the UK, but at least it makes it easy to spot the public land. If there's no big signs in capital letters on it then it's probably BLM land…


On the way into Capitol Reef National Park I passed the small Behunin Cabin which belonged to some of the old Mormon settlers back in 1882. It was once home to a family of ten! Those Mormons were the first to come through this part of the country as they looked for land to live in, free to practice their faith without harassment further East. There were no indigenous people living in the canyon when they arrived but there were still traces of Indian settlement such as irrigation networks and petroglyphs.
There is a fascinating amount of history in this part of the country, from both the Native Americans and the Mormons. On one of my previous hikes I saw an old Indian cave dwelling. They were even worse architects than the Mormons…


Actually, they were pretty poor artists too.


For all its beauty and emptiness, Utah was at times a pain. Shopping in the small community general stores was an extortionate experience. I'd been so excited about stocking up on supplies from the little supermarket in Escalante but when I got there I found it was closed as it was a Sunday. I had to live off scraps from the petrol station for the next two days.
I was delighted to find a decent shop in the village of Hanksville after a long day in the saddle. The landscape had changed dramatically after Capitol Reef and I was back in the desert. It's sometimes a bit hard to buy booze in conservative Utah so I was happy to find a cold beer in the shop's fridge. I packed one into my bag with a packet of crisps, crossed the wonderfully named 'Dirty Devil' river found a lovely campsite up in the dunes behind town.


It was a beautiful pitch. The low sun was glowing the dunes golden and I could sink my bare feet into the cool sand. What a lovely end to the day. I cracked open my cold beer and that's when everything started to go wrong…


I took a sip from the beer. I have never tasted anything so disgusting. Was that… tomato!? I check the label. 'With the refreshing flavors of tomato, salt and lime'. Who would commit such blasphemy over an innocent lager? I tried my best to force it down but ended up pouring away half of it before retreating into my tent in a sulk. The sandflies (or 'no-see-ums', as the Americans call them) had had a feast on my legs so I struggled to fall asleep while itching away…


I passed some strange rock formations the next day. The hills had long black lines on them that looked like motorbike's tyre marks. They couldn't be, I thought, they completely defy gravity. Later on I past a sign that said 'OHV recreation area' (OHV = motorbikes). This place would be a pretty perfect playground that…


Back in the desert there were long stretches without water or shade. The road up to Green River was the first time I was bored cycling in Utah. The wind was against me and it was awfully hot. I joined the highway for the last stretch into town. Along that section there is 109 miles between services. Imagine that, on a motorway! It would be like driving up the M1 from London to Leicester without seeing a single building…
I met a cyclist from Florida at the petrol station at the edge of Green River. He had a slightly crazy eyes and a bonkers set up but I stopped for a natter. I said I was just going to camp in the desert behind the petrol station that evening and he suggested we camp together. I happily agreed to that, cyclists are usually great company and I really need to soak up the human interactions when I get the chance out here.


Unfortunately he was a lunatic. Totally bat shit crazy. Of all the things we could have talked about he started banging on about the world being flat. Apparently earth's spherical shape is just a conspiracy and actually it is pancake flat. I asked him what was at the edge of it and he returned a wonderfully rational answer: "ice cliffs". He provided a whole bunch of peculiar evidence but I was too tired to absorb all of it. Apparently NASA is a hoax and there aren't as many satellites orbiting the planet as they say. He said he knew that was true because he didn't have any phone signal out in the desert. How do you explain that!? He also said that if something look as if it dips below the horizon in the distance, you just have to get a better pair of binoculars and you'll be able to see even further, no worries. "Pythagoras' theory proves that", he said.
"Do you belive in God?" he asked me, but before I answered he clarified "well, he's definitely real" and then started rattling on about something in the Bible. I interrupted him to say that I didn't and tried to save myself hearing anymore of this nonsense but he just carried on explaining how the Bible confirmed the earth's flat-ness.
Suddenly the idea of camping with this nutjob sounded rather unappealing so I excused myself very quickly and raced off into the desert. "I'd better go set up camp before it gets dark, I'll just be a little way down that dirt road" and instead I headed miles down the dirt road and over a dune. That night I prayed for the first time in my life: "dear God, I know it probably doesn't work like this but if you are up there please don't let that lunatic find me out here".
For nearly two and a half years I've been travelling into the sunrise and I was hoping to reach home by continuing in the same direction. Now I'm worried I'll drop off an ice cliff before I make it back to the UK. Let's hope he's wrong…
I continued south towards Moab but before reaching town I turned for towards Canyon Lands and camped behind some juniper trees. In the morning I rode the last few miles to Dead Horse Point and had a good marvel at the views below me.

I had planned to leave my bike and hitch hike up to Canyonlands but I simply couldn't be bothered. I was 'rock'd out. Utah had blown my mind but I had seen so many cool rocks I honestly couldn't be arsed to go out of my way to see any more weird formations. Not at least until I'd had a beer in Moab, at least.
In Moab I stayed with Amrah, a positively lovely chap who hit me up through the blog. As I was waiting for him to finish work, Collin turned up. I'd met Collin early in the day as I'd been cycling down from Dead Horse Point. He'd stopped to offer me some ice cold water which was very much appreciated under the burning sun. Now Colin had a huge pizza in his arms. He'd bought it for me and was going to ride out and meet me for dinner on the road! How sweet is that!? Unfortunately he'd mis-understood that I wasn't continuing past Moab that afternoon but by great fortune I was right next door to the pizza shop he'd just come out of so we had dinner right there and then. Aren't people just lovely in this country?
People really are fantastic here. Let me tell you a couple of nice stories about people in Utah. There was the guy who spotted my touring bike in the supermarket and offered me a beer there and then in exchange for a chat. We had a drink and talked about where I was travelling to, a random but lovely encounter. (In the UK I'd be a little wary of strangers offering me beer in a car park!). Then there was the girl in La Verkin who gave me her spare Parks Pass (which has saved me a fortune getting into all the National Parks for free). Then there were the guys who pulled over to give me water when I'd run out along the roasting and remote Burr Trail…
I like this story about nice Americans particularly: at the edge of Boulder I nipped into the shop to buy something. When I went to pay I realised that my wallet wasn't in my handlebar bag. After an awkward second I remembered that it was in my rucksack, having been with me hiking earlier. I paid, left the shop and placed my wallet on a rear pannier as I packed my groceries. I made a mental note to put the wallet back in my handlebar bag but sometimes my brain gets a little frazzled after a long day in the sun and I cycled off without packing it away.
As I neared the top of the hill into town a car pulled up beside me.
"Are you from the UK?"
"Yes" I replied.
"I think you left your wallett outside the gas station."
"Bollocks! Yes, it seems I did… Thanks!" and I turned to cycled back.
"Don't worry – we'll go back and get it for you" and they turned the car and drove back down the hill.
As I waited another car pulled over:
"Are you Jonathan?"
"Yes…"
"We've got your wallet!"
"Thanks so much! But, oh, those other guys just drove back to get it for me…"
"Oh really? OK, don't worry. We'll go back and tell them".
They're honestly such a lovely bunch in this country.
Reaching Moab meant that I'd been in America for a whole month. I celebrated the occasion by letting myself be dragged to a bar for a drink, ending my four week bar strike.
Why have you been on bar strike JKB?
Well, I wasn't going to go off on a rant, but now that you ask…
The Americans have a very strange tipping culture. As far as I can work out, they just throw money at people everywhere they go. In San Francisco I learnt that it is the norm to tip a dollar everytime you buy a drink in a bar, which is the silliest thing I have ever heard. Those poor barmen who have to go through the ordeal that is pouring a pint and need an extra dollar for the workout? Come on…
I realise that in many parts of the country people get paid an abysmal hourly rate that takes into account that they are working a 'tip-receiving' job but in San Fran the minimum wage is about $10 p/h. If you serve 20 drinks an hour in a busy bar suddenly you are earning more like $30 an hour. I've worked for years behind bars for less than $10 an hour and I've probably earned a grand total of about 50 quid in extra tips. I'd never considered complaining about that before, but I am now…


The problem with the tipping culture is that it creates an un-bearable bunch of waiting staff. The other day I went out for a meal with a bloke in a dive bar. The waitress was a lovely girl but she came over to ask us if "everything is OK?" every two minutes. It was ridiculous. I'll give you that $5 right now if you just piss off and leave us alone for 5 minutes!